Heavy Equipment, Trucks, & Machinery Cleaning Services
APC uses only the most professional pressure washing systems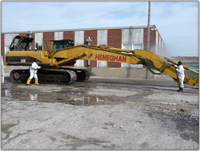 Once heavy equipment, trucks and machinery have finished a job, they are typically covered with dirt, mud and grease. Not only can this grime cause damage if left alone, it can also cause unexpected injury to operators, mechanics, engineers and anyone else who comes in contact with the equipment.
Advanced Pro Clean has helped thousands of organizations over the last 18 years treat and clean their heavy equipment, trucks and machinery using our professional pressure washing systems. With our equipment and expertise, we can restore these trucks and equipment to their original shine so they are safe and ready for use on their very next job.
As avid conservationists, we can also contain all water used and recycle it for future use.