Commercial Pressure Washing Services Chicago
Graffiti and Gum Removal, Parking Lot Striping, Awning Cleaning, Sidewalk Cleaning, Parking Garage Cleaning, and more!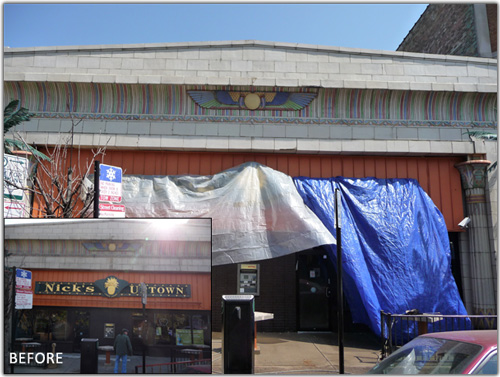 A nice appearance of your brick, stone, concrete or wood can sometimes mean the difference between a patron coming in and one turning around and leaving. Oily or muddy surfaces can also lead to accidents and injury. At Advanced Pro Clean we offer a variety of professional pressure-wash cleaning and restoring services to help you address any of these (or similar) needs.
Whether you are a store owner, property manager or someone else, we can help you restore any surface to its original sheen, at any time of day or night. If, for example, you do not want to disrupt daily foot traffic, we can come in the evening or early morning. It is no problem.
We can clean just about anything, from the side of a building or an awning to a dumpster area or even garbage shoot. Advanced Pro Clean has the equipment and expertise needed to get the job done right, the first time.
We regularly treat office buildings, stores, strip malls, gas stations, parking garages and parking lots to remove carbon buildup, mud/dirt, grease, bird droppings and more. Once we finish our cleaning, we will also clean any windows that may have been affected, at no charge to you.